CRD100 Seafloor Drill
Quick Information
Description:
The CRD100 is a state-of-the-art, self-contained, remotely-operated drill that can case, core, and Cone Penetrating Test (CPT) to between 65-120 meters below the seabed depending on the sampling configuration and soil characteristics. The CRD100 can operate in water depths down to 3000 meters.
Tool handling is performed automatically, improving drilling efficiency, and accurately tracking all tools and cores as they are recovered.
The drill includes maneuvering thrusters, navigation sensors and a suite of cameras which allow the surface operator to accurately position the drill, even in highly challenging terrain.
tHE fOLLOWING oRGANIZATIONS USE AND tRUST THE crd100:
Cellula drills are designed to handle changing conditions during a drilling campaign. If an unexpected hard feature is discovered during a geotechnical CPT profile, the drill can switch tools, core through the feature and continue the CPT profile.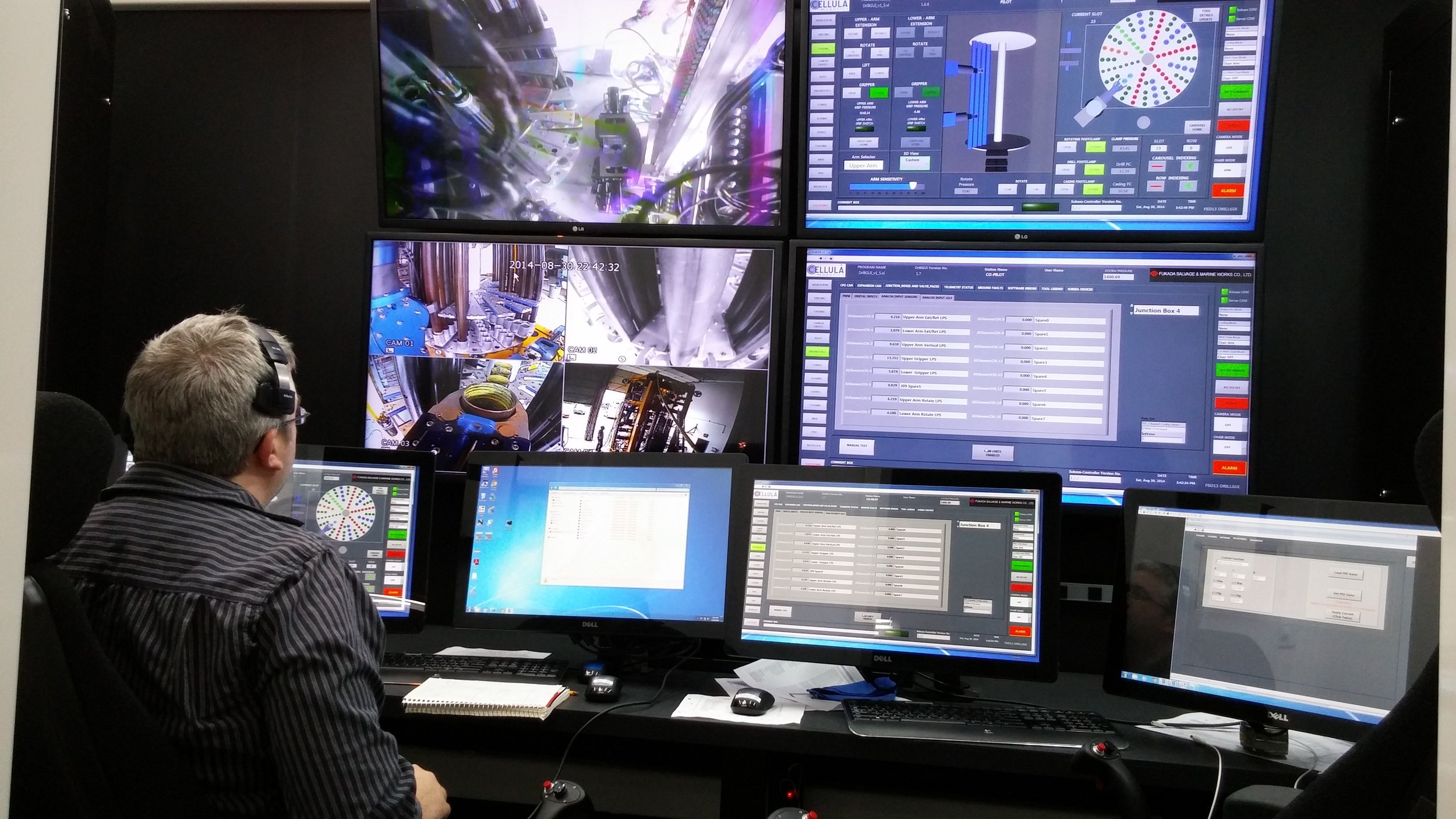 Relays Information With Precise Measurements
With the CRD100 deployed directly onto the seabed, precise downhole depth measurements can be made with respect to the mudline. Coupled with a precision digi-quartz depth sensor, CPT data can be accurately tied to existing data sets. All measurement data is, in real time, transmitted to a dedicated Cellula-provided control van.
Outrigger Legs for Soft Ground depLoyment
The CRD100 can be fitted with four outrigger legs to prevent sinking in soft soil conditions. The legs keep the drill above the seafloor around the sample site, preventing ground compression where sampling is taking place.
With the outrigger fitted, the drill can be deployed onto soft ground and on slopes up to 15 degrees.
Cellula's patented foot design allows for passive suction release, ensuring the drill can be recovered even during a system failure.
Improved Sample Quantity
Decoupling the vessel motion provides a stable drill platform on the seafloor.
Precise Seafloor Positioning
Four thrusters, navigation control and leveling legs provide accurate positioning on the seafloor, even on challenging terrain.
Universal Deployment
The CRD100 can be deployed from virtually any suitable DP vessel, allowing for flexibility.
Increased Safety
All tool handling is carried out remotely with no human intervention, eliminating the risk of danger and injuries.
Mineral exploration, geotechnical analysis, downhole instrument deployment and methane hydrate exploration
Conventional or wireline drilling
1500N-m torque at 200 RPM
Up to 800RPM
Up to 100mm per minute bit advancement (depending on ground conditions)
100kN push and pull force
Onboard polymer injection drilling fluid system
65m continuous coring depth with 12m casing
Industry standard H-size tooling
1.5m rods and core samples
61.1mm core diameter
2.5" piston samplers
Cone Penetration Testing Data
120m CPT push
10 & 15cm2 cones
2cm / second at up to 100kN
Real-time, wireless transmission of data
3000m operating depth
13,500Kg in air (with full tool suite)
10,500Kg in water
5.3m x 2.4m x 3.1m (H x W x D)
Ships in a standard 20' ISO high cube container
Options
The following options are currently avalible for the CRD100:
The standard configuration is for 96 H-size drilling tools. However, the drill has been configured to support, B, N, H and P size standard tools, along with CPT rods. Larger tools includiing T146 (123mm sample diameter) have been tested, and tools up to 450mm diameter have been used.
Stab legs for rugged, rocky seabed
Outriggers legs with large feet for soft seabed
Downhole Logging Tool inclusion
Natural gamma, conductivity, temperature & magnetic susceptibility
Looking to purchase?
We'll customize the CRD100 to fit your organization's needs - request a quote below and we'll be in contact. Have more questions before you purchase? Feel free to message us at [email protected] or through our contact form.